<![if !supportEmptyParas]> <![endif]>
"Driver Dan" Racing
&
CRS Racing
2008 Season Team Reports<![if !vml]><![endif]>
This page will be updated as significant events unfold. Be sure to check this page weekly during the racing season for important news and information on the "Driver Dan" Racing Team.
July 5
Almost... but not enough!
Starting with the end, we finished 14th 7 laps down because... you guessed it... we overheated AND the motor quit.
Our quickest lap times doesn't truly reflect just how much we've improved. We were dogging the 10, 11, 45, 9 and were quicker than the 02 and 30! No, we aren't in the neighborhood of the likes of Gary Glenn, John Moore, Paulie Harraka, Kristen Bumbera, Laura Hayes or Shannon Mansch. BUT WE ARE GETTING RACY!!!
Now, back to the beginning. We changed to a single pass radiator and re-did the front air box in hopes of dealing with our cooling problems. It seemed to work fine for us because we only got up to 220 degrees in practice. Our power steering pump started spitting fluid everywhere, so under the guidance of someone with WAY more racing knowledge than us, we made a change to a smaller crank pulley, but didn't have time to change the power steering pump pulley to a larger one. But we were able to get this all done on a hot car between qualifying and the main. That includes one of our three man crew driving back to my house to pick up parts.
We ran at about 220 degrees for about 24 laps before the water temp started to creep up to the 240 range. I could also tell by the way the power steering was getting rougher that we were spitting fluid out again. But, the handling was there. We then started to get a bit hotter (like 250+) after about lap 30; deciding to stay out.
Gary Glenn had a transmission let go on lap 41 and a fire also erupted under his car... bringing out a red. Our car jumped way over the 260 range and we asked if we could go into the pits to cool down. During that time, the 02 blew a radiator hose. So, the track decided to push me off. We cooled the car down to 220 and went back out for the restart. One problem that jumped up was that I had NO brakes. I told Tom that I would just ride around high seeing if we could stay on the lead lap. However, one lap after the green our car started running very rough, loosing power and I saw the water temp gauge drop to 200 degrees. I put the clutch in as I went under the flag stand and the motor died. I coasted off the track and into our pits completing only 43 of the 50 laps.
So, it's time to yank the motor and see just how badly we damaged things. If it is too bad, it just may be the end of the season for us. This is just the biggest downside of having a small operation... money. But then again, if we did have money, we'd have all the headaches that go with it and our main goal is to HAVE FUN!!!!
Stay tuned for updates!
June 21
We left smiling and laughing... well, most of us anyway.
Things were going too smoothly for us, we knew, when we were loaded (except for the car) on Friday night. We loaded the car on Saturday morning and were ready to head out to the track by 11:30 A.M. But, the gates were supposed to open at 1:30 P.M. We showed up at the track at 1 P.M. and the gates were already open. We casually set up the shade and got things organized... then sat and waited for check-in and practice (at around 3 P.M.).
When we finally got to get out for practice, we started smoking and the steering was very hard. We found that the smoke was coming from the power steering fluid that was spurting out of the pump. Turned out to be a good thing that we picked up a used pump on Friday. So, we spent the entire practice session swapping pulleys and getting the new pump on the car. Net result = NO PRACTICE.
So, we qualified cold and did not do a very good job. I completely OVERDROVE the car and could only muster a 14.8 quick lap. It was kind of bitter sweet in that we knew we were secured a position in the twin 75 lap mains because there were only 22 cars that showed up. We were sort of hoping the rumored 40 (or at least 30) cars would have shown up. Oh well!
Our motor-man, Justin Rowley, showed up and helped us sort out our power steering issues. We were sure glad that he was able to finish helping his dad on their boat or else we would have fought that thing ALL NIGHT LONG!
We got a whopping 3 laps in the first 75 lap race when we started smoking again. This time it turned out to be electrical. A loose connection caused an amp load on a power wire and we burnt 8 feet of wire. The first 75 lap race turned out to be caution free and we didn't get a chance to finish the re-wiring to get back out on the track.
The second 75 lap race was a bit more to our liking. We did fight the overheating issue AGAIN, and wound up having to call it a night WAY before the end of the race; only getting 41 laps in. We did have a ton of fun, though. We actually think we've hit on something that this chassis likes and I could get the car to turn in the middle of the corner very well. In fact, I felt so confident that I tried a pass one corner too early. I saw that the #30 would wash up in the middle of turns 3 & 4 and decided to start the pass to the inside going into turn 1, so that I had a good run going into 3. Problem was, the #30 either didn't know I was there or thought I would not be there when he came down... but I was. We collided and he started spinning out. I tried to dive to the infield, but he just kept coming down. Sooo... our car now looks like it actually has been in a race at Roseville... we had to go into the pits and rip the nose off! (see photos)
When I came back out I was able to drive under and away from the #30... by starting the pass in turn 3!!! Lesson learned. Even though we pulled off the track several times to cool down, we were able to finish 19th... and ahead of the #30. So the net result of the night was that we were able to be racy with someone (actually 4 cars), and we were in high spirits!
Now, there are some bad things... First off, we pitted at a new space and made the ill-advised decision to always back down the pit lane to go back on the track. Very dangerous and down-right stupid, but we did it. After we called it a night, Jim Farrington (official) came down and told us we were done because of the "backing up thing" (especially since we actually backed into someone's tires). Of course, we were done by our own decision first.
Second, a 16-year old guy helping me out had the spotter for the #30 jump in his face. I know we tangled, but dude, grow up. That 16-year old showed WAY MORE CLASS than you, dude. Perhaps you should have been much quicker on letting your driver know that the bumper to his left means there was a car that had position on him going into the corner and to do a little more giving and a lot less taking. It's not like either one of us is anywhere as fast at Gary, Kristin, Paulie or John!!!
We've got a family thing going this next weekend so we will not make the next 100 lap race. We should be back out on July 5th. We hope to see you there, and feel free to drop by the pits after the races!
May 24
As the "Talking Heads" said... "same as it ever was!"
We replaced our ignition boxes with a brand new box, replaced the twin wire that runs to the distributor (re-routing it through a different part of the firewall to get it as far from the headers as possible, straightened the shroud in front of the radiator to get rid of the major bends, put a new 2,200 CFM electric fan with shroud on the radiator, and did some spring changes to the chassis... the end result = engine quits after 13 laps!
But first, let me say that "Pele" remains the front runner for the name of the car. This time, in practice, we came off and there was a whisp of smoke coming from under the hood. No big deal; we figured it was probably just some oil from the breathers or something. When we removed the hood, we found that the #6 and #8 spark plug wires were on fire! So, we had to bum some spares from another racer because we left ours at home.
Anyway, when we ranin the main, it felt like the chassis was more manageable; and we ran a 14.54 (quickest time yet!). We had a push (because we went too far on our sway bar adjustment) and were biding our time for the first yellow to make an adjustment. We were hunting a pack of 4 cars when the #14 spun (with some help) and we dodged underneath, headed down the back stretch and then the engine died as we went into turn 3. We came to rest just shy of the flag stand and were pushed off and couldn't get the car re-fired.
So, it's back to the grind stone and see what we need to get done right as soon as possible. Keep checking back for updates.
May 3
We didn't have as much luck as we had hoped for this first 100 lapper. We ran as hard as we could and still suffered the overheating problem from last week. The handling seemed to be improved; although our lap times were still the same as last week.
We also suffered some radio problems. Tom (spotter) had is battery die and they luckily found one of the old back-up batteries with enough power to work for the few laps we ran afterward.
We began to over heat during the first long green flag session, but were able to cool it off in the pits and maintain a decent temperature during racing. The yellows killed us, though. The temperature went through the roof and I had to pull of twice more. The last time the motor died and we couldn't get it re-fired. There was 23 laps left in the race and we just couldn't get it fired. Then, there was a huge pile-up that took 5 cars out of contention. Julie said that I would most likely had been caught up in the wreck if I was out there. However, if we could have gotten back on after that red/yellow, we could have moved all the way up to 16th or 15th place.
Oh well! It's back to the shop to see what we can do to keep it cool, and maybe even pick up a couple of tenths!!! We definitely want to make it out for the 150 lapper at the fair in June!
April
26
We made it to the track today, and boy were we surprised/pleased. We practiced around .6-.7 seconds behind the quickest cars. We then qualified 16th out of 20 cars with a 14.563 second lap. The car had a bit of a push and didn't want to rotate in the center, but this is the first time in my career that I have shown up with a brand new car and qualified under a second behind fast time!
We tried a few things, like altering the caster and camber, to get the car to handle better, and it helped. But, the car needs a lot more.
We were running hot in practice and decided to remove the water restrictor to improve flow. The car wound u prunning very hot in the main and we had to come off a few times (always under yellow) to cool it off. But that wasn't the end of the heat... No, we had a power steering hose rupture as we were pulling into our pits, the fluid hit the header and ignited. It went out quickly when I shut the engine off and we had a little smoke damage.
So, we'll spend this next week getting the weights were we want them, do some spring and shock changes and see if we can't get it to rotate in the center and carry more speed through the corner. We have a 100 lapper this coming weekend and there may be quite a few late models (because Altamont and Madera aren't running LMs).
April 10
We have lots of changes this season... new car, new racing and new team name.
As you can tell by the top of this page, there is something called CRS Racing. No, CRS doesn't stand for "Can't Remember S***". It stands for Cherry, Rowley, Stretch. Justin Rowley and Tom & Justin Stretch have put substantial amounts of time and effort into getting the new car ready. So, what better way to reward them than with some lip service... and therefore the new team name. BUT, Driver Dan Racing does not go away so easily. Car ownership does have it's privelege!
We've got a new car.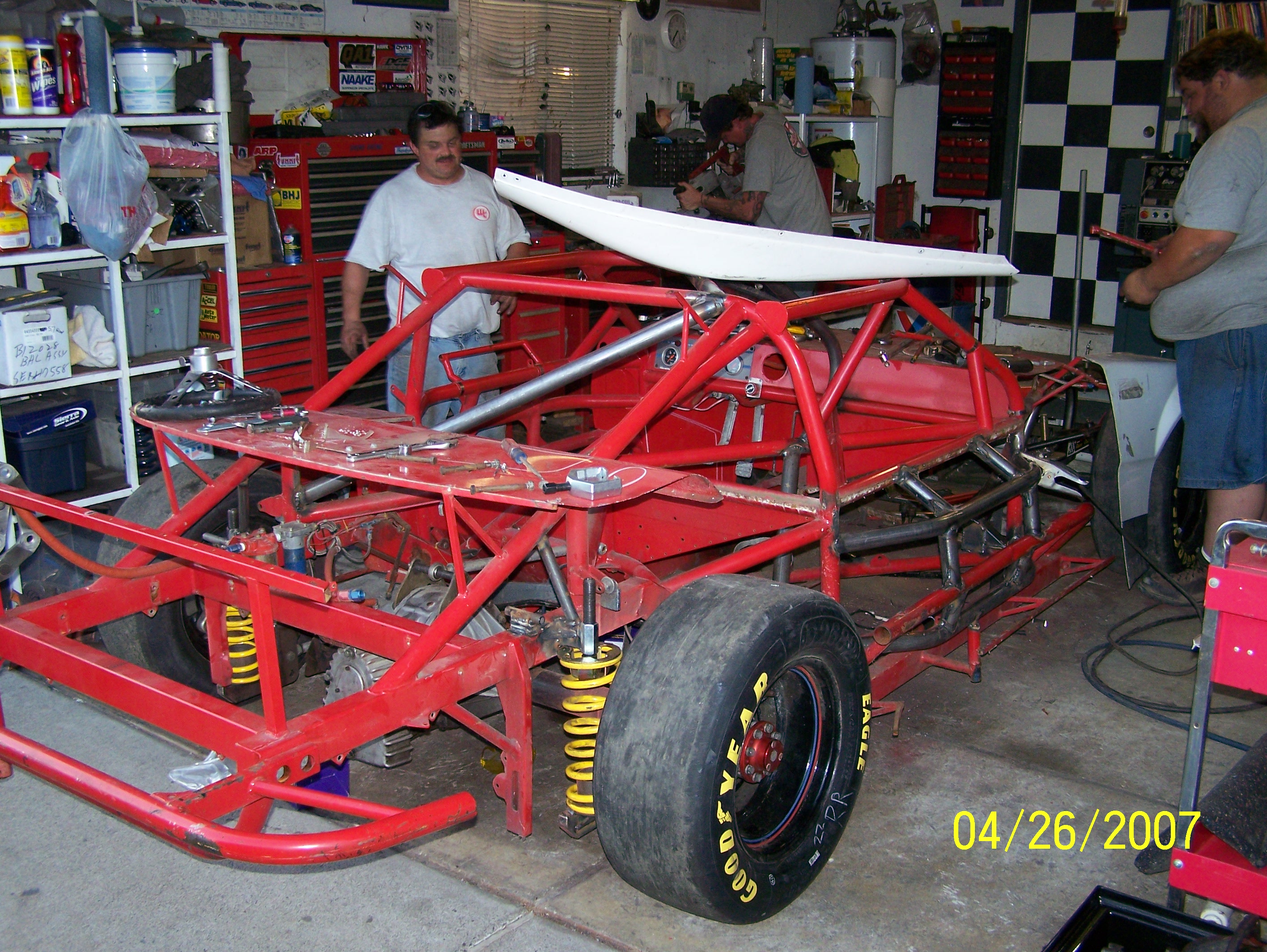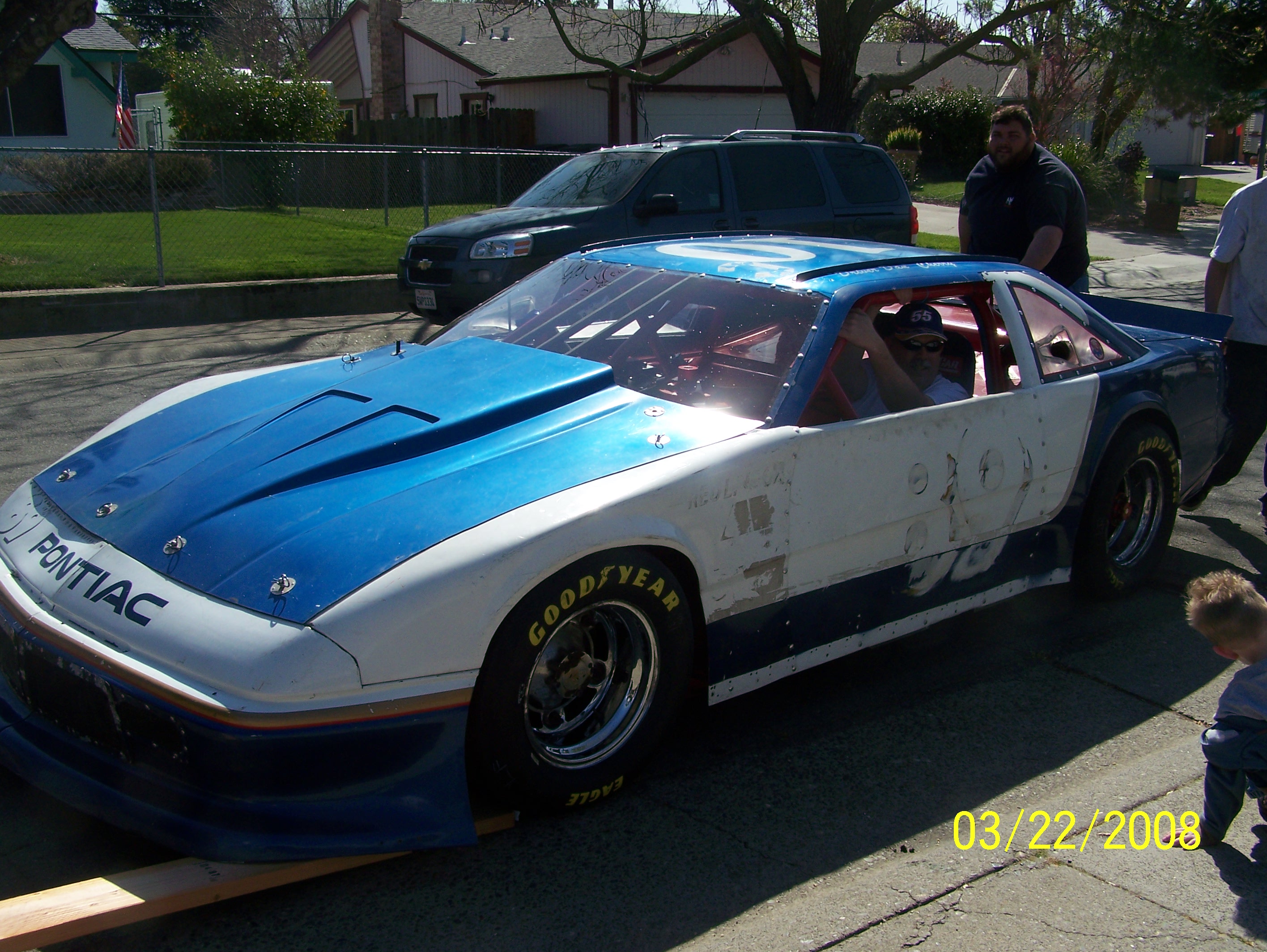 This is an Ivan Baldwin chassis from many moons ago that last raced (according to one source) at Infineon. So, I hope it doesn't take it too personally that we turned it into a short track car and took away it's coil-over suspension.
Now, as far as the new racing, we expect to spend a bulk of our time at the All American Speedway in Roseville. It doesn't mean that we won't go someplace else. But, with the price at the pump lately, we will probably stay a little closer to home.
This page was created on April 12, 2008
This page was updated on July 6, 2008
<![if !supportEmptyParas]> <![endif]>